Central Garden
&

Pet Company Announces Highest Quarterly Revenues in Its History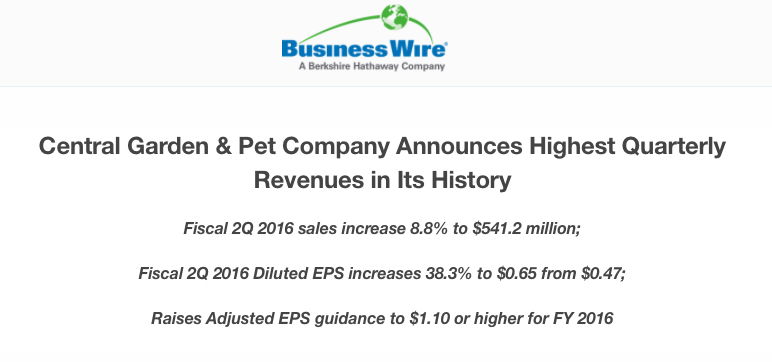 WALNUT CREEK, Calif.–(BUSINESS WIRE)–Central Garden & Pet Company (NASDAQ: CENT) (NASDAQ: CENTA), a leading innovator, marketer and producer of quality branded products for the lawn and garden and pet supplies markets, today announced financial results for its fiscal second quarter ended March 26, 2016.
"We are very pleased to have achieved the highest quarterly revenues in the Company's history and its highest quarterly earnings per share in ten years," said John Ranelli, President & CEO of Central Garden & Pet. "These results reflect our success in increasing revenues, reducing costs, and positioning our portfolio of businesses for success. These efforts are on-going, and the Company remains committed to growing in the years ahead by continuing to execute on the strategy and plan we have been following over the course of the last few years." Ranelli continued, "With our leverage ratio down to 3.1x at the end of the quarter vs. 4.5x a year ago, Central is well-positioned to utilize its strong cash flow and balance sheet to fund future growth both organically and through acquisitions."
Ranelli concluded, "Central's excellent results reflect the dedication and leadership of our management and the significant commitment to excellence of all our employees, ensuring our customers and consumers are receiving the very best in products and services."
The company currently expects adjusted earnings per fully-diluted share of $1.10 or higher for fiscal 2016, an increase of at least 49% from the prior year.
– Business Wire, May 4, 2016