SOLD PREVIOUSLY
"

UN-SALEABLE

"

COMPANY IN 1 YEAR

Restructured Company—Repositioned Brand & Turned Losses Into Profits—Became "Talk of the Industry"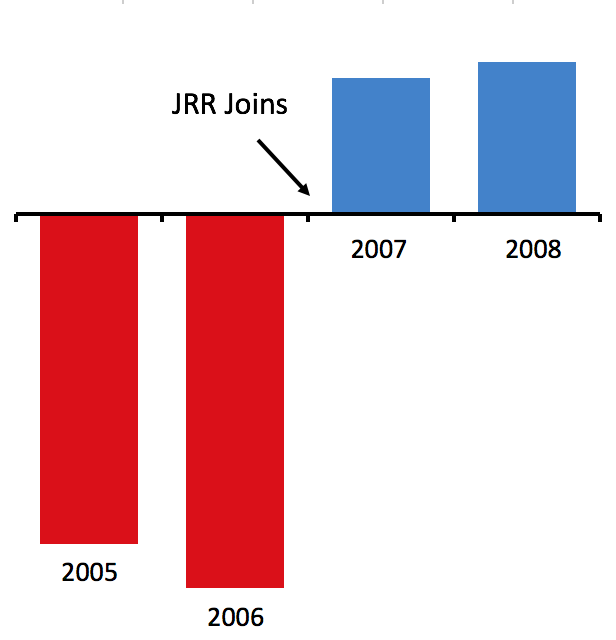 MIKASA, INC. PROFIT
(Pro-Forma $M)
Only company in declining industry to achieve year-over-year sales growth in challenging 2008 economy.
Closed 95-store chain of factory outlet stores in 6 months, self-funding elimination of $50M in lease liabilities.
Reduced operating expenses more than 50% including a headcount reduction from 1100 to 225.
Achieved all financial targets with minimal management changes, paying all performance bonuses for 2 years.
REVERSED 8 YEARS OF SALES DECLINES AND LOSSES
Led Turnaround to Profitable, Debt-Free, Cash-Generating Growth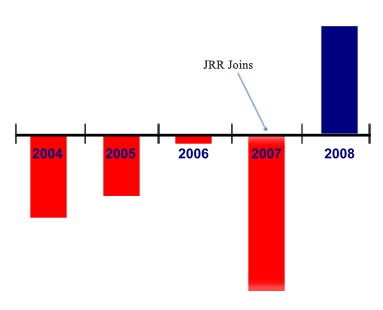 DELIVERED INDUSTRY-LEADING GROWTH
Mikasa 2008 POS Sales

| | | |
| --- | --- | --- |
| CASUAL DINNERWARE | | |
| | Retail Sell Through | +14% |
| | Strong Bridal Registrations | +34% |
| FORMAL DINNERWARE | | |
| | Retail Sell Through | +17% |
| | Strong Bridal Registrations | +29% |
IMPROVED OPERATIONS
Increased Fill Rates from 63% to 93%, Reducing Out-of-Stock Top 100 SKUs from 25 to 1
Decreased SKUs from 23,000 to 2,606 While Increasing Sales